THE HOOD PAGE
This page Updated 4/26/98
This is for all the NORMAL people, who just so happen to be stuck in the HOOD with the refuse of society. My whole goal in creating this page, is to inform AMERICA, that "When IT hits the fan, will you be ready?" This page will also focus on some of the things you can do to protect yourself from the predators of humanity, the bottom-feeders, the low-lifes. This page is still in it's conceptual stages, but I am sure that when it is completed, it will be the Phoenix rising from the Ashes, so "Chill, My Freinds," and enjoy.

Remember to Click The Pics....Each Bullet hole is a link.
Mr. Twisted's Canine Security Force
I will also attempt to keep you informed of some of the local sights, events, and goings on, in and around 'The Hood.

Read the Scrolling Hood Bulletin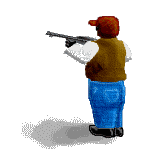 So visit us often, And please take the time to drop me an E-mail
See ya' soon, DUCK, DRIVE-BY...