THE SPACE PAGE

for all things related to SPACE...

This Page is dedicated to every aspect of space, it will include sights, sounds, and links, that I hope you will find enjoyable and entertaining. It will also have links back to the map room, and my home page, as well as a place for you to drop me an email, also so read on, and remember, "Space, the final frontier..."
Page Updated June 30th, 1998
Remember...Click on the Pictures.
"NEW Faces of Mars links below!!!"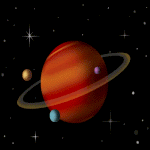 ...

...

...

...

...

...

...

...

...

...

I will continue to work on this page, so check back regularly. Please drop me an Email and let me know what you think mike@krainbrink.com